To access the benefits below, login to the Members Only section with your username and password. If you do not have a username or password, please contact your ASA member state association for the information.
ASA Member Certificate – Insert your name and credentials on this editable certificate. Print on 8-1/2" x 11" paper, frame it, and display in your office!
See sample here: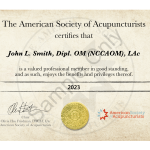 Login here to download and print editable pdf version of the Certificate
ASA Member Digital Badge – A digital badge that can be placed on your website.
See sample here:
Login here to download the usable version of the Badge
Insurance Specialists, Inc. – ISI is an insurance administrator, providing ASA members with the following products and services. They have over 60 years of experience acting as an insurance administrator and have worked with a variety of professional associations and industries. They offer the following insurance (not available in all states). Log in to the Members Only Section to find out more details about which insurance is offered in your state and to obtain a quote.

Life insurance
Accidental death & dismemberment insurance (AD&D)
Disability Income Insurance
Business Overhead Expense Insurance
Dental Insurance
Cyber Liability Insurance
Wage Protection Insurance
Spot Pet Insurance (up to a 20% discount)
CM&F Group, Inc. (Division of Specialty Program Group, LLC) – CM&F offers a 10% credit on Individual & Group Liability (malpractice) insurance. Since 1947, CM&F has been dedicated to helping America's healthcare providers protect against their professional liability exposures; always cost-effectively and with the strongest and most stable carriers. We are now very pleased to offer a smart liability insurance solution for today's acupuncturists and East Asian Medicine specialists. CM&F's policy is underwritten by the nation's largest and strongest liability insurance company (rated A++ Superior), PLUS there is no membership fee required to secure coverage. Review the features below and you'll learn why CM&F is THE RIGHT CHOICE FOR ASA ORGANIZATION MEMBERS. Click here to get a quote.
Jane – Jane is a cloud-based, all-in-one practice management software that makes it easy to book, schedule, chart, and manage payments — all online. To learn more about Jane's full suite of features, head to jane.app/acupuncture-us to book a 1-on-1 demo. Jane is offering ASA members a 1-month grace code to provide new Jane subscribers with an entire month of offset billing! Click here and enter your username and password to access the code. Click here to watch "Run your acupuncture practice with Jane".