Our leadership team is made of experienced practitioners with many years of state-level experience in practice, leadership, and legislative action.  If you are interested in serving and have experience and passion to share, please contact us!
---
Olivia Hsu Friedman  DACM, LAc., Dipl. OM (NCCAOM)
Chair
Dr. Olivia Hsu Friedman earned a Doctorate in Acupuncture and Chinese Medicine from Pacific College of Oriental Medicine, a diploma in Traditional Chinese Medicine Dermatology from Avicenna UK, and an MSOM from National University of Health Sciences. She is also a board certified NCCAOM Diplomate of Oriental Medicine (Dipl OM).
Before serving on the Board of Directors of the American Society of Acupuncturists, Dr. Friedman was one of two Illinois delegates to the ASA and served on the Illinois Society of Acupuncturists as Vice President. She serves on the Advisory Board of LearnSkin, the faculty of the Chicago Integrative Eczema Support Group sponsored by the National Eczema Association and the NUHS Presidential Alumni Advisory Board. Dr. Friedman is the owner of Amethyst Holistic Skin Solutions and practices TCM Dermatology utilizing only herbal medicine in Chicago, Illinois.
---
Dr. Nell Smircina  DAOM, L.Ac., Dipl. OM (NCCAOM)    
Vice Chair of Public Policy
Dr. Nell Smircina, DAOM, L.Ac., Dipl. OM (NCCAOM) is the Immediate Past Chair of CSOMA in CA, and has served on both the Advocacy Committee and Medicare Taskforce for the ASA. In addition to her state and national experience, she also is an advocate at an international level. As the Director of Development for the American Acupuncture Council, she actively works to support the profession through many strategic initiatives, including work to further develop the implementation of ICD11 codes, established by WHO, which include Traditional Medicine diagnostics.
Clinically, Dr. Nell specializes in acupuncture for optimal post-surgical recovery, an area she researched extensively during her doctoral program. She is the Founder of PIQUE Health, an integrative concierge practice in Beverly Hills, but more recently has pivoted and scaled her business with a more B2B focus, specifically on the collaboration and integration of acupuncture into established businesses. She shares her insights and business building tools with the profession in her Acupuncture Today column, "The Business of Acupuncture".
Dr. Nell values mentorship and has taught in many AOM schools on the topics of practice management, professional development, and messaging. She believes being able to effectively communicate our medicine's value to the public is critical to the growth of the profession. Through teaching and coaching, she assists students and practitioners looking to have thriving businesses while helping as many people as possible.
Dr. Nell has been featured as an SME on Good Day LA and Good Morning Arizona; and her work has appeared in Thrive Global, Authority Magazine and Acupuncture Today. She is a passionate international speaker on the topics of the integration of medicine and the constantly evolving healthcare industry.
---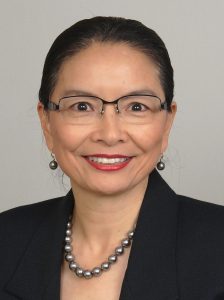 Hongjian He  AP, DOM, Ph.D., MD (China)    
Treasurer
Dr. Hongjian He graduated from Guangzhou College of Traditional Chinese Medicine in 1983.  She was trained as an Internist and did a residency in the China Japan Friendship Hospital with western medicine and TCM in Beijing. As a licensed acupuncturist in FL since 1988 and a board certified NCCAOM Diplomate of Oriental Medicine (Dipl OM), Dr. He has taught and practiced TCM, acupuncture, nutrition, and functional medicine in Florida for over 33 years while promoting, protecting, and advocating for the acupuncture profession relentlessly/persistently especially in legislation.  Prior to the ASA, Dr. He served as President, Vice President or board member on many acupuncture-related professional associations such as the American Acupuncture Association and Oriental Medicine, National Federation of Chinese TCM Organizations, American Alliance Professional Association for Acupuncture and Safety, Florida Acupuncture Association, Florida State Oriental Medical Association. She also received several awards for her leadership, contributions, and service on both the national and state level.
Dr. He is very aware of the need for the unification of our profession and hopes to specifically assist in bridging relationships with the Chinese communities and fostering stronger collaboration on important issues such as Medicare.
---
Jeff Bloom
Board Member at Large
Jeff Bloom is a marketing professional who spent 16 years working in the acupuncture industry. With a passion for advocacy, building community and a sincere love of acupuncture, the ASA was the perfect fit. Jeff looks forward to bringing his unique perspective and expertise to the BOD.
---
Nichelle Cieri  MS
Board Member At Large
Nichelle currently holds a masters of science in psychology and is pursuing a doctorate in clinical psychology with an emphasis in diverse populations at Mount Saint Mary's University, Los Angeles. Nichelle has studied acupuncture and Traditional Chinese Medicine through the Ni Family at Yo San University. Nichelle has a decade of experience working with survivors of sexual assault, domestic violence, and other forms of interpersonal violence. She has assisted in creating psychoeducational training to manage the somatic symptoms of dealing with high-conflict personalities. She has served as a trauma-informed consultant for multiple publications including NPR and the Henry Press. She recently received a grant from the Safe Passage Foundation to explore adverse childhood experiences (ACEs) and chronic pain through the lens of east Asian medicine. Nichelle has a heart for social justice and liberation psychology. Her past experiences on a board includes a term as executive chair for a non-profit that serves disproportionately affected youth and young adults through trauma-informed yoga and meditation and as a member at large for the Alliance of Victim's Rights. In the past she has served the ASA as the chair for the student committee and as a regional director. During her terms serving the student committee, Nichelle spearheaded a Title IX outreach project, which aimed to empower students through education, advocacy, and support in seeking an equal and discrimination free learning environment.
---
David W. Miller  MD, LAc   
Immediate Past Chair
Dr. David W. Miller, MD, LAc is the founding Medical Director for Pediatric Integrative Medicine with the University Hospitals Connor Integrative Health Network and Rainbow Babies and Children's Hospital in Cleveland, Ohio.  He is one of the only physicians dually board certified in Pediatrics (American Board of Pediatrics) and Chinese medicine (NCCAOM – National Certification Commission for Acupuncture and Oriental Medicine).  Prior to joining the UH Connor network, Dr. Miller was in private practice with East-West Integrated Medicine, LLC in Chicago, Illinois for 14 years, and saw patients of all ages for holistic and integrative care.
Dr. Miller has designed curricula in masters and doctoral programs in integrative physiology, pediatrics, medical communications, and public health and is an active participant and leader in numerous state and nation medical associations.  He is the founding Chair, and now Immediate Past Chair, of the American Society of Acupuncturists, and immediate past-Chair of the NCCAOM board development committee on Biomedicine.  He participates actively with the American Academy of Medical Acupuncture, the American Medical Association, the Integrative Health Policy Consortium, and other state and national groups.  He has served on the Illinois state regulatory board for acupuncture, and has passed legislation related to the practice of acupuncture in Illinois, and has also lobbied nationally for issues related to acupuncture and integrative medicine.
Dr. Miller received his Bachelor's degree in Mathematics from Vassar College, his M.D. from the Brown University School of Medicine, and completed his internship and residency in Pediatrics at the University of Chicago.  He then completed his Master of Science in Traditional Oriental Medicine with the Pacific College of Oriental Medicine in Chicago. He is also a board certified NCCAOM Diplomate of Oriental Medicine (Dipl OM).
He is a peer reviewer for the Journal of Complementary and Integrative Medicine.